Top European Stocks Shine Bright in Tougher Times
Investors looking to consider international equities are often quickly swayed towards US funds or even emerging markets, but there may be a region that investors may not have considered – European stock markets. Over the last 12 months, the Global X EURO STOXX 50 ETF (ESTX) has been Australia's top performing ETF, returning a healthy 32% and beatings its internationally focused peers by a fair margin.1 But why is this the case, and can this positive run continue?
Key Takeaways:
Many of the largest European equities are value oriented and have shown strength while quantitative tightening in the US has seen global growth stocks struggle.
Europe's position as a net exporter means it has benefitted significantly from China's rapid reopening. Meanwhile, a record low Euro has also bolstered exporting revenues.
STOXX 50's high quality, large market cap nature has allowed it to outperform STOXX 600. STOXX 50 has also benefited from excluding UK exposure, as it is struggling to return to pre-covid GDP.
Move Aside Growth, Value is the New Sheriff in Town
During the pandemic, investors were motivated to invest in often riskier, growth-oriented assets as interest rates neared zero and companies with questionable balance sheets exploded in revenue. Europe's typically more value-oriented offerings, with its large, slow-moving companies, went largely ignored as US growth dominated the spotlight. However, as the world has dialled back on economic stimulus, and began scrambling to control inflation, growth has taken a fall.
In theory, a post-Covid world was Europe's time to shine. The blue-chip slow movers that had once weighed down its performance should have provided protection against unprecedent rate hikes echoing across the global economy, but the Russian-Ukrainian conflict exploded, placing unprecedent pressure on equities in the region and shaking Europe to the core. European stocks once again underperformed, falling further and harder than both US and global equities for three quarters of 2022.
Understandably, this paints a rather uninspiring background for investing in the Eurozone, but as we will find out, the more you compress a good spring, the harder it bounces back.
Commencing October 2022, the STOXX 600, an index covering the top 600 firms of the UK and Eurozone, began its journey to rebound more than 15% in less than 6 months. Signs of Europe's inherent blue-chip resistance began to show, as the S&P 500 only returned 5% during the same period. The STOXX 50, STOXX 600's more refined sibling consisting of only the top 50 eurozone firms, performed even better, climbing a whopping 28%, whereas Nasdaq 100 (the holy grail of growth) returned roughly 12%.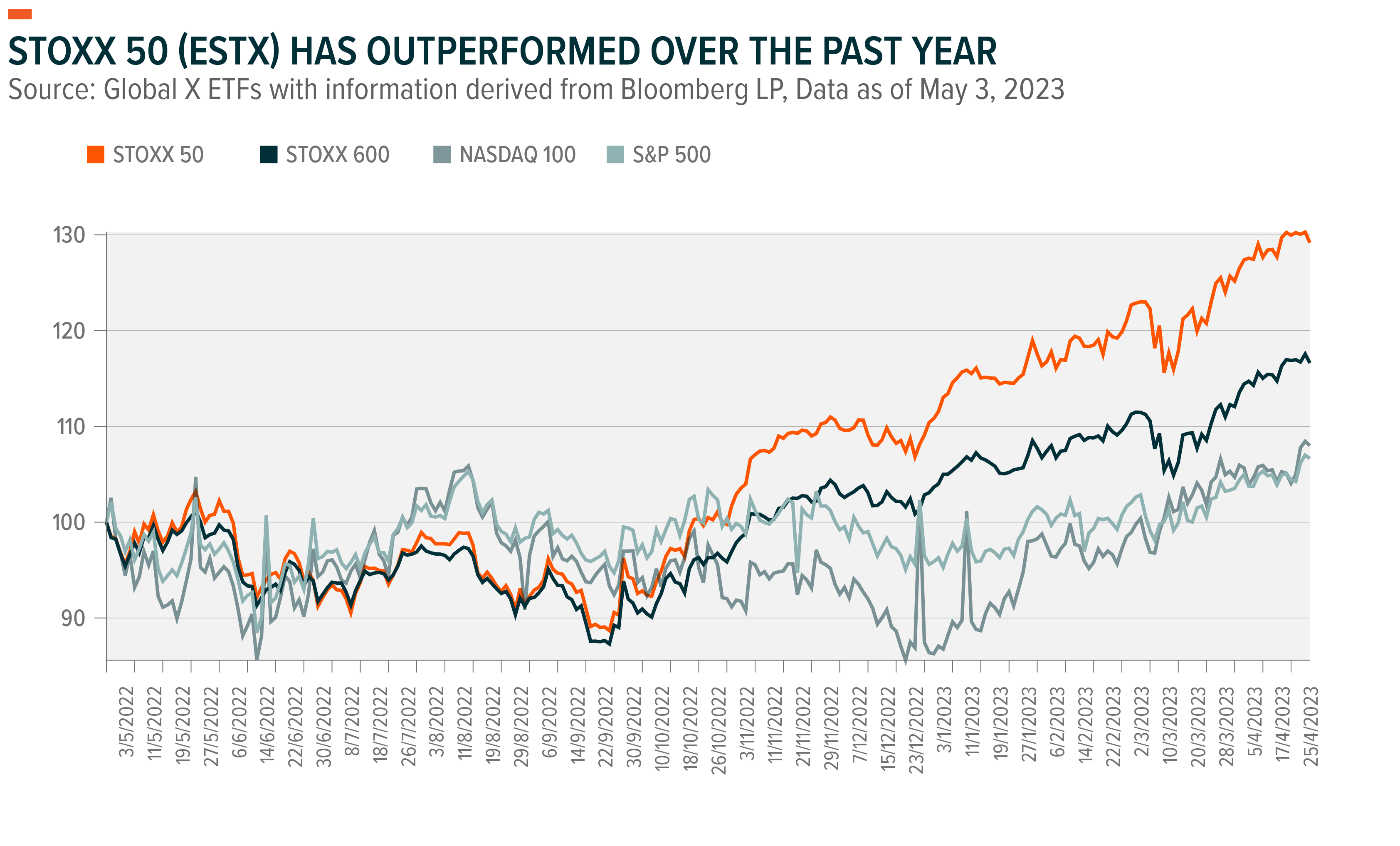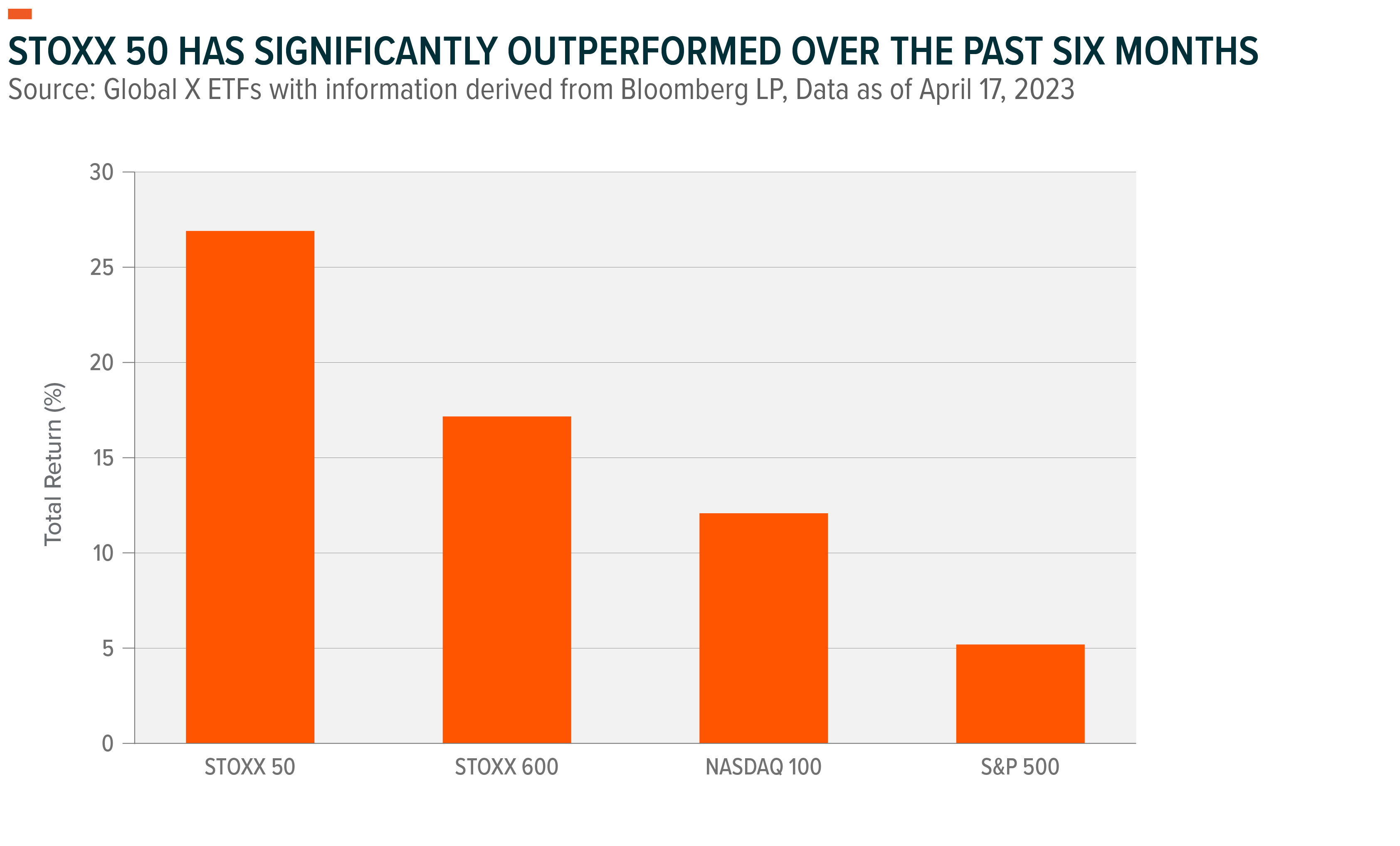 Past performance is not indicative of future results
In an environment where inflation has plagued the global economy, governments battle against recession odds, and international conflicts are rife; the slow and steady power of value has proven its worth, while growth has struggled. The STOXX 50's overall outperformance is a sign of the shifting investor sentiment toward value as the easy-going macro environment we've grown accustomed to comes under pressure.
China's Re-Opening, Europe's Re-Emergence
Europe is the largest net exporter of manufactured goods and services in the world.2 More than half of the eurozone GDP can be attributed to the export of goods and services.3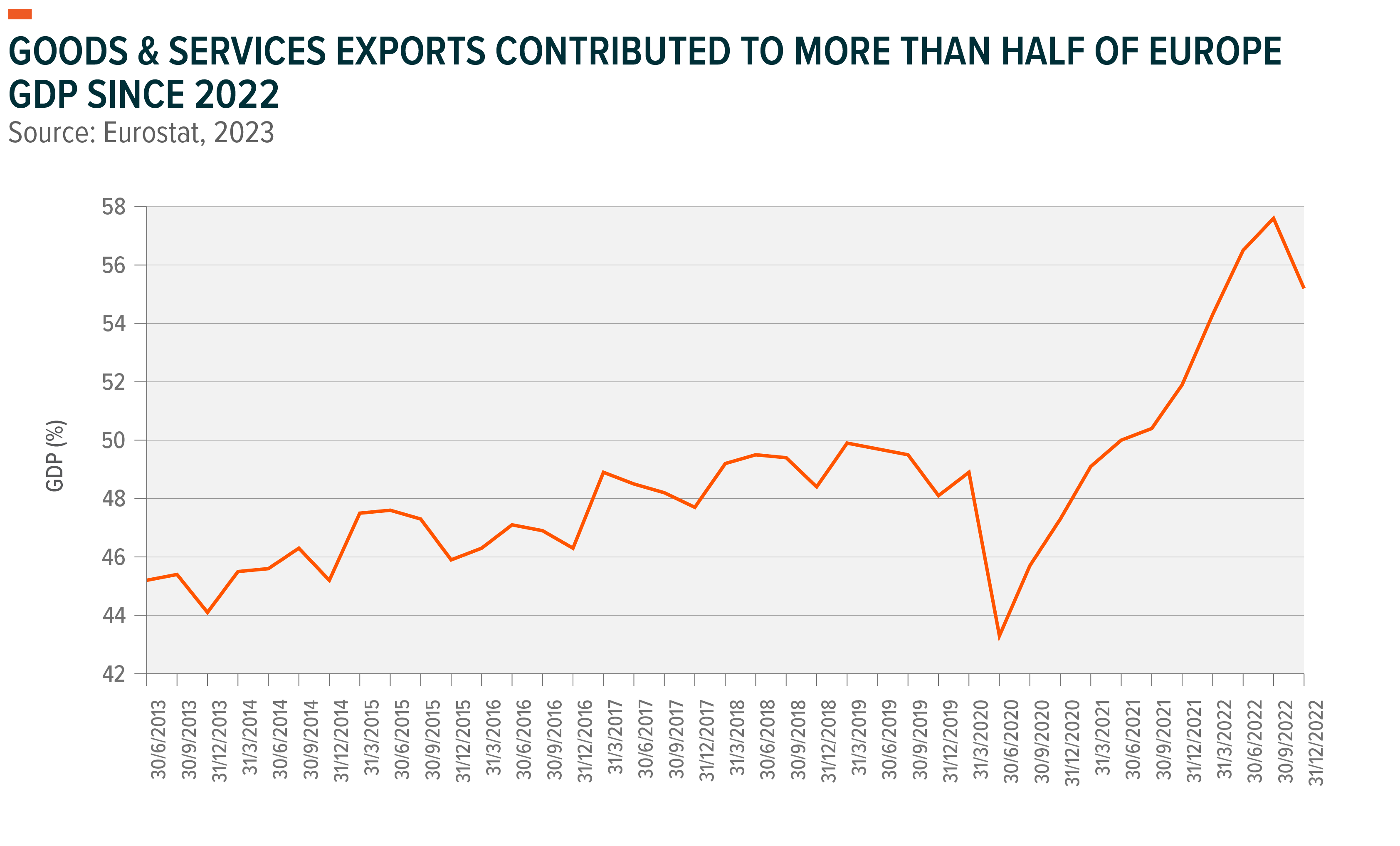 This heavy reliance did however mean that tight Covid regulations around the world, specifically China, heavily impacted the performance of numerous industries. China's reopening in the second half of 2022 was key in ushering in a new age of prosperity for beaten down European equities. From beauty and fashion giants such as LVMH, L'Oréal, and Hermes, to household automobile and aircraft manufacturers such as BMW, Airbus and Mercedes, each of these European titans stood to regain a massive importing market as China dropped its curtains and returned to prominence.
Further to China's return, Europe's prolific exporters effectively double dipped in profits as inflationary pressures pushed the Euro to record lows. Exporters benefit from a weaker local currency as importers pay more for goods and services than usual. And as the traditionally high-flying Euro dipped below US dollar parity in August 2022, companies built on exports would have been delighted to discover that their business was more lucrative than ever.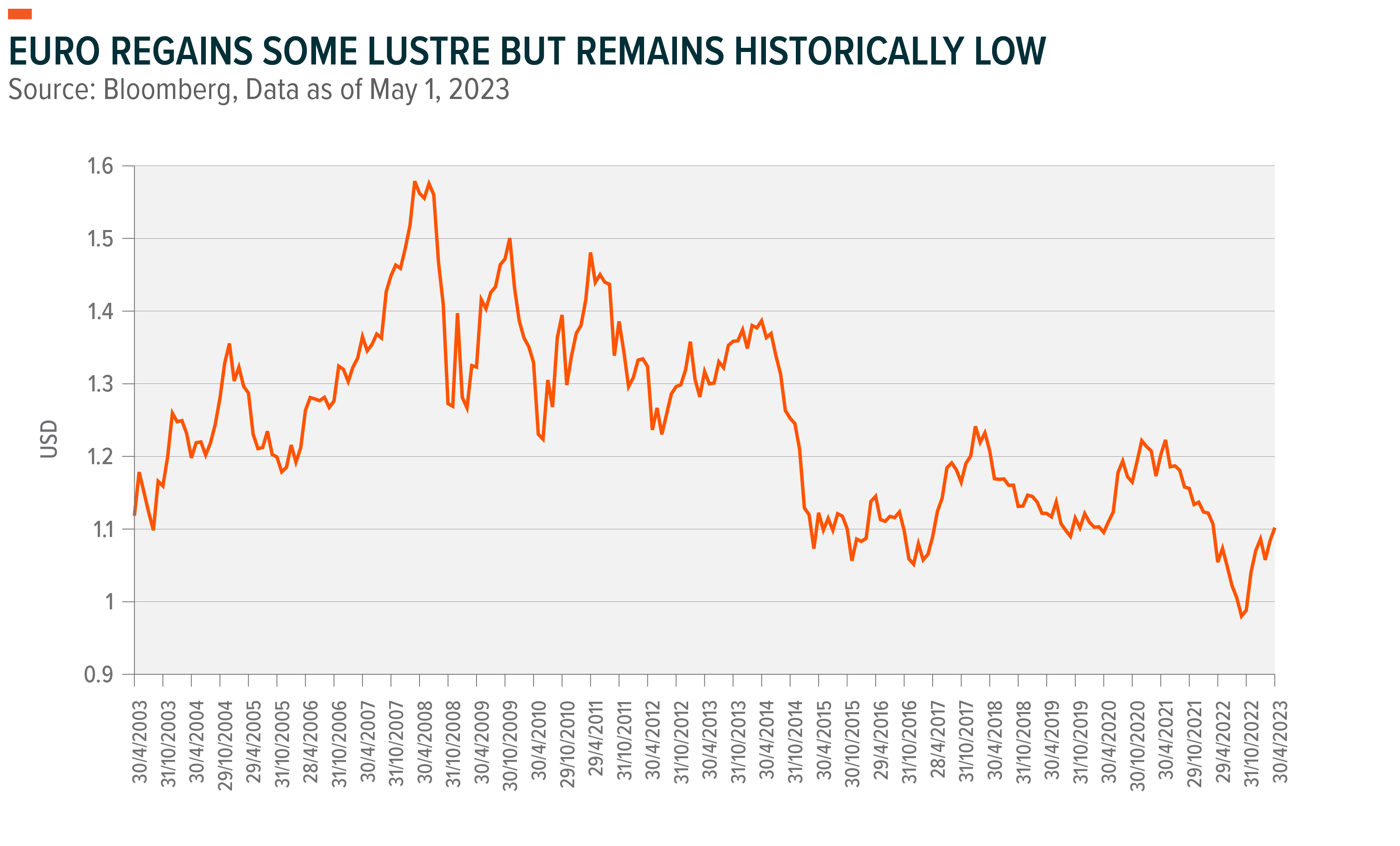 Australian investors, in particular, can also seek to benefit from a recovering Euro. STOXX 50's sizeable total Australian return of 28% in the past 6 months represented a further ~10% of performance over the base STOXX 50 index as foreign exchange boosted returns.4
Extracting the Best of Europe
Though Europe has seen great returns in the past year overall, the Global X EURO STOXX 50 ETF (ESTX), which utilises the STOXX 50 index, has significantly outperformed the STOXX 600 and there are a few reasons why we think this may be the case.
While the pan-European STOXX 600 index offers a less concentrated and more diverse exposure, its long tail of smaller-cap companies with less robust fundamentals offers weaker protection against economic downturn. This is especially true in relation to the current rate hiking environment. In contrast, ESTX provides investors with a concentrated exposure to the highest quality companies in the Eurozone.
The STOXX 50's concentration of high market-cap companies has also meant that it has had very little exposure to the worryingly slow recovery of the UK economy. Of every participant in the G7, UK remains the only country to have yet to recover to pre-Covid GDP, inviting fears of a possible prolonged recession.5
As volatility and uncertainty continue to wreak havoc on global economies, the high-quality stocks of Europe have proven to be a reliable safe haven for investors who wish to allocate to equities. While these companies have had their fair share of significant downturns, as international conflicts stabilise and the economy seeks to recover, their value-tilted proposition may bring stability, as well as sizeable performance, to portfolios over the long term.
Related Funds
ESTX: For investors wanting targeted exposure to the top companies in the Eurozone, the Global X EURO STOXX 50 ETF (ESTX) provides a solution. Invest in 50 of the largest companies across Europe.
Click the fund name above to view the fund's current holdings. Holdings are subject to change. Current and future holdings are subject to risk.