Big Corporates to Help Drive CleanTech Adoption
With the world trending toward a greener future, forward facing companies are rapidly accelerating their sustainability efforts to promote climate friendly operations and reduce their environmental footprints. Consumer demand for corporate action in sustainability has risen significantly, and the public sector is also a major motivating factor, with many governments tightening environmental regulations. Over 40% of the world's 2,000 largest companies, along with 133 countries and hundreds of cities, have now set stringent net zero targets.1 Together, these corporations and government jurisdictions account for 88% of annual global emissions, meaning that, should they bolster their sustainability efforts, they will substantially reduce global emissions.2
US Corporations Key in Advancing Renewable Energy Adoption
Over the past 10 years, many corporations have turned to procuring their own clean energy to decarbonise their day-to-day operations. Advancements in wind and solar power technologies and lowering costs have made this pathway increasingly viable. Subsequently, demand for critical minerals such as copper is also on the rise as it is the most heavily used material in wind and solar energy generation.3 For many companies, clean energy procurement is part of their broader commitment to sustainability, in some cases spurred by likeminded peers. For example, as of March 2023, over 400 companies had joined RE100, a leading global corporate renewable energy initiative where members commit to reaching 100% renewable electricity.4 RE100 members are some of the largest corporate clean energy purchasers globally, including Meta, Google, and Microsoft.5
Currently the most common procurement avenue for corporations is through power purchase agreements (PPAs), which contract a specified amount of electricity from a renewable energy generator that owns and operates renewable energy projects. Corporate renewable energy purchasers are also driving innovation in the renewable industry. Top buyers like Microsoft, Google, and Amazon have been instrumental in improving PPA structures, making them easier for smaller companies to implement. In addition, companies and renewables developers are working towards next-generation procurements where energy storage and other technologies can cover electricity demand with clean energy around the clock.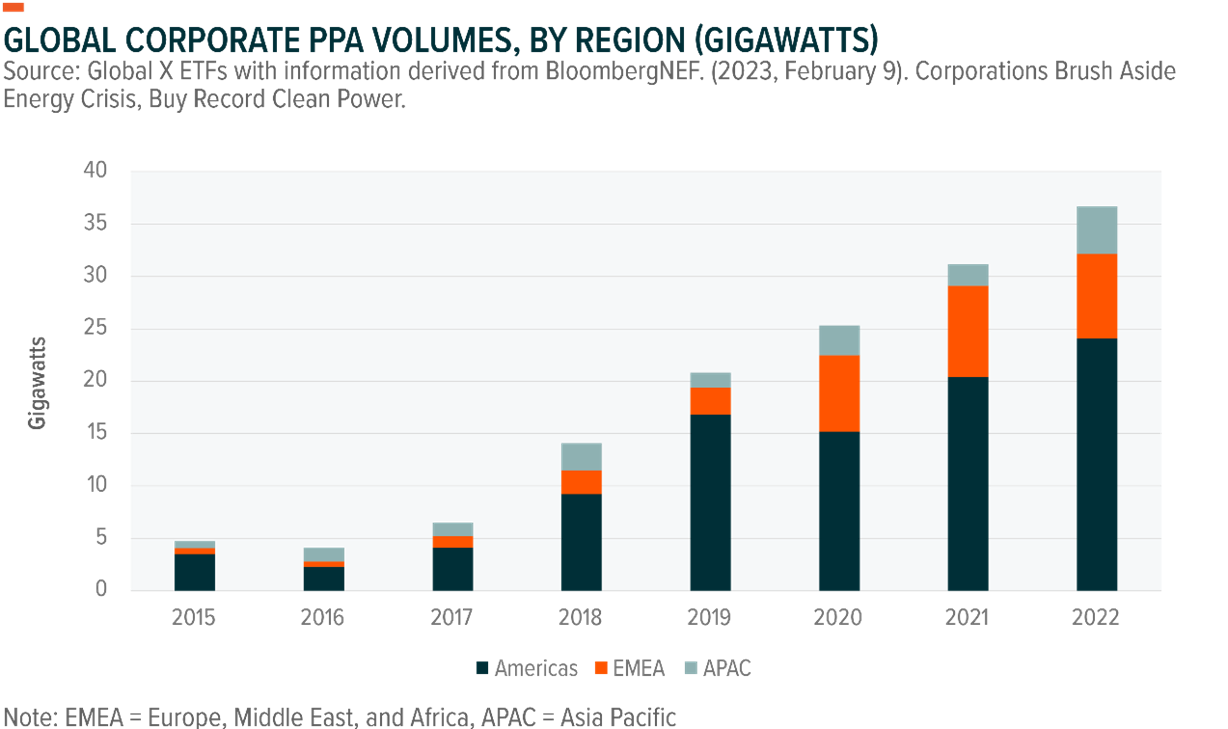 Green Hydrogen Industry Scales with Corporations Buy In
Corporations are experimenting with one of the newest clean technologies, hydrogen fuel cells, and the green hydrogen space is scaling rapidly as a result. When hydrogen is produced sustainably, fuel cells can produce clean energy on demand for difficult-to-decarbonise segments, such as buildings, vehicles, and heavy-duty equipment. Not all the fuel cell projects mentioned in this section currently harness green hydrogen, but that is a function of its rarity. Once sustainably sourced hydrogen becomes more readily available, fuel cells are calibrated to instantly take on a cleaner role in energy mixes.
Amazon made a splash in the hydrogen space in August 2022 by expanding its partnership with Plug Power, which dates to 2016.29 Amazon agreed to purchase 10,950 tons of green hydrogen per year from Plug Power for transportation and operational purposes.30 The deal is expected to activate in 2025 and supply Amazon with enough hydrogen to power 30,000 forklifts or 800 long-haul trucks.31 As part of the deal, Amazon will receive warrants to purchase up to 16 million Plug Power shares that vest if the ecommerce giant spends $2.1 billion on hydrogen products over the seven-year contract.32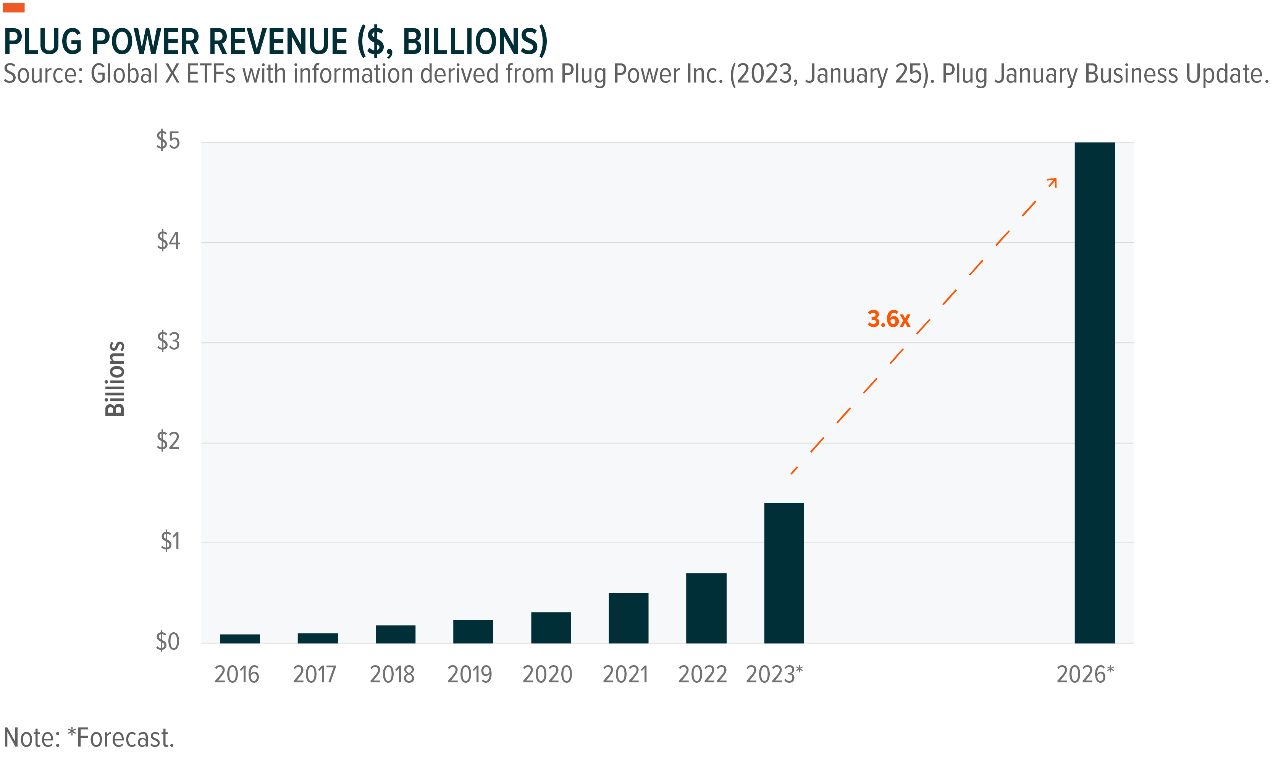 In some cases, corporations' interest in green hydrogen makes them innovation engines for hydrogen tech. In late 2022, Nel ASA announced that it would license some of GM's fuel cell intellectual property to support commercialisation of the company's line of proton exchange membrane (PEM) electrolysers.39 These machines use electricity to split water into hydrogen and oxygen, making them an essential conduit for green hydrogen production. Also in 2022, IBM and Meta independently announced that they would provide data support and computing capacity to assist in the physical development of hydrogen supply chains and work to drive down the cost of green hydrogen.40,41
Carbon Allowances Help Incentivise Corporate Greening Policies
Carbon allowances have become a powerful regulatory tool to incentivise corporations to reduce their carbon footprint and invest in cleaner technologies. In 2022, prices on EU carbon allowances sky-rocketed 50% from the previous year, and despite lower total transactions (due largely to  concerns around the Russia-Ukraine war), the value of carbon allowances exchanged totalled more than US $950 billion.42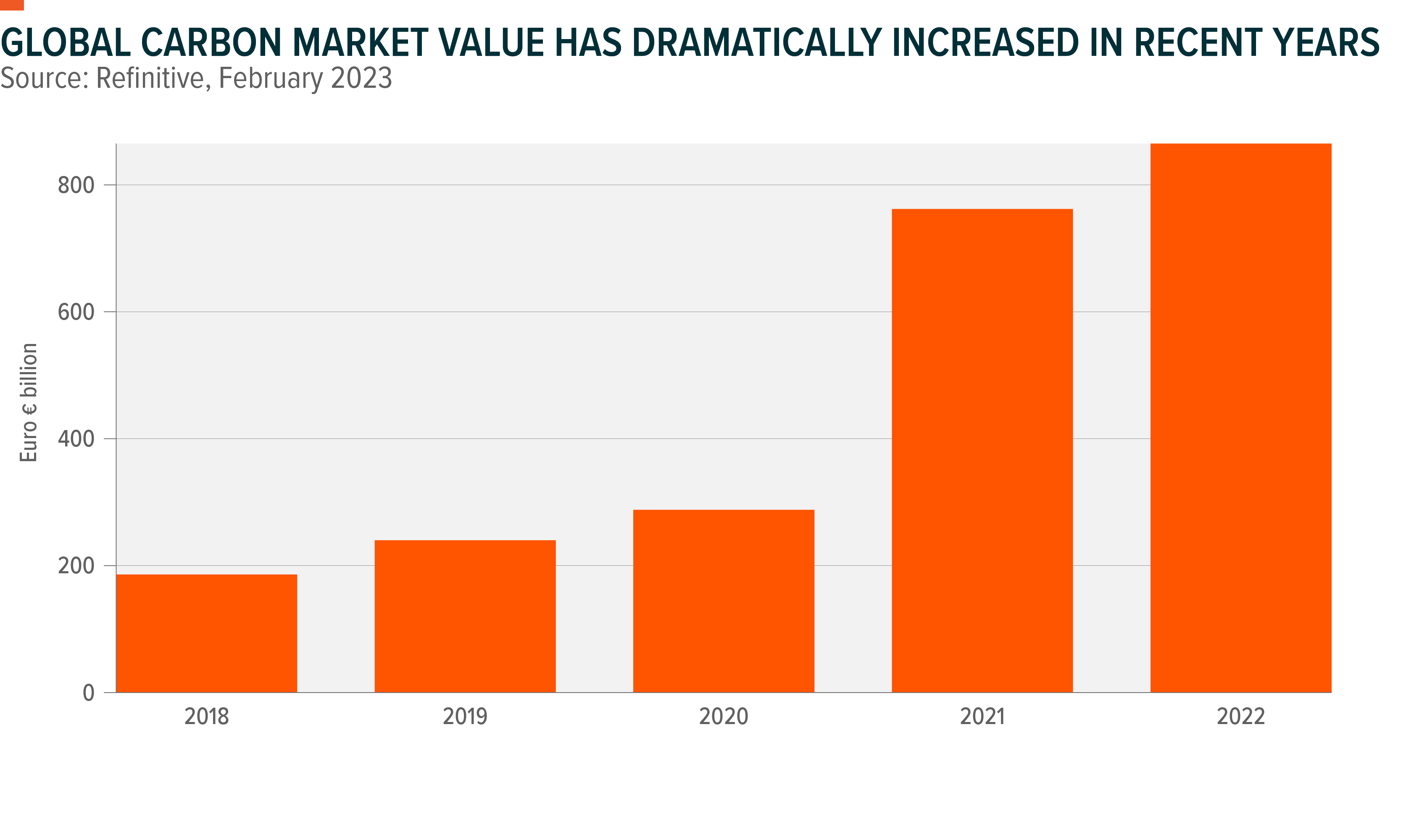 Expending carbon will likely only become more expensive, as global policies trend towards further tightening of carbon markets. Europe's "Fit for 55" proposal seeks to accelerate the reduction of carbon allowances in their system, and phase-out free allowances in certain sectors, driving valuations.43
Carbon allowances have helped to level the playing field for companies already committed to sustainability. Green technologies often face higher costs than competitors who ignore environmental concerns. With the emissions trading scheme, green energy giants such Iberdrola and Orsted A/S are now enabled to earn revenue by trading excess allowances, helping to offset higher costs and allowing them to compete on an equal footing with less sustainable companies.
Conclusion: Corporate Sustainability Efforts Bolster the CleanTech Theme
Investment themes such as renewable energy, hydrogen and carbon allowances, offer investors diverse opportunities to capture the corporate transition toward cleaner technologies. Corporations are set to play an increasingly prominent role in the energy transition as they ramp up decarbonisation and sustainability efforts, spurred by government regulations and incentives as well as consumer pressure. Global X believes this demand for corporate sustainability can help normalise green technologies and boost adoption.
Related Funds
HGEN: For investors seeking to access companies that stand to benefit from the advancement of the global hydrogen industry, the Global X Hydrogen ETF (HGEN) offers a solution. Gain exposure to companies involved in hydrogen production; the integration of hydrogen into energy systems; and the development/manufacturing of hydrogen fuel cells, electrolysers, and other technologies related to the utilisation of hydrogen as an energy source.
WIRE: For those wishing to invest in the energy transition through copper miner exposure, Global X Copper Miners ETF (WIRE) provides access to a global basket of copper miners which stand to benefit from being a key part of the value chain facilitating growth in major areas of innovation such as technology, infrastructure and clean energy – including solar and wind power.
GMTL: For those wishing to invest in energy transition metals miners, Global X Green Metal Miners ETF (GMTL) provides a solution. Gain exposure to global companies which produce critical metals for clean energy infrastructure and technologies, including lithium, copper, nickel and cobalt.
GCO2: For investors wishing to invest in carbon allowances, the Global X Global Carbon ETF (Synthetic) (GCO2) provides a solution. The fund tracks the ICE Global Carbon Futures Index and invests in carbon markets covering the European Union Emissions Trading Scheme, Regional Greenhouse Gas Initiative, Western Climate Initiative (California cap and trade program) and the UK Emissions Trading Scheme.
Global X ETFs Australia does not currently offer ETF exposures to Solar or Wind energy thematics. The above information and commentary are meant to educate and inform, please seek professional advice before investing.