Patience Can Be a Virtue in the Biotech and Genomic Space
Patience can be a virtue in the biotech and genomic space, as next-generation biotech treatments do not hit the market overnight. However, when all the years-in-the-making pre-clinical trials, clinical trials, and new drug application reviews approach completion, the biotech industry can move quickly. In 2022, expected approvals, strong trial data, and upcoming catalysts for pharma and biotech companies are reasons for optimism.
In this piece, we highlight four companies in the Global X S&P Biotech ETF (CURE) with upcoming catalysts that we consider to be potential biotech opportunities in 2022:
Alnylam Pharmaceuticals: Expanding its leading position in amyloidosis
Sarepta Therapeutics: Developing its Duchenne muscular dystrophy (DMD) portfolio
BioMarin: Taking its rare disease portfolio to the next level
CRISPR Therapeutics: Leading the gene editing space through CRISPR/Cas9
Alnylam Pharmaceuticals: Expanding Its Leading Position in Amyloidosis
Alnylam specialises in commercialised and in-pipeline RNA interference (RNAi) therapeutics. These therapies offer a unique approach to diseases where they target, or interfere with, the cause of the disease at the gene level rather than treating the diseases' symptoms.3
Currently, Alnylam's main therapeutic focus is Amyloidosis, a rare but potentially fatal disease where proteins change shape. When this happens, the proteins bind together and form abnormal amyloid (TTR) deposits. The deposits can build up throughout the body, including in the heart, brain, and kidneys, causing these vital organs to malfunction.
To treat Amyloidosis, Alnylam developed therapies that "silence" TTR by effectively stopping its production.4   Amyloidosis can also be treated through therapies that "stabilize" TTR, meaning they curb TTR production but silencers are more effective than stabilisers, but they typically require an infusion or an injection.5
Doubling Down in Amyloidosis: Vutrisiran Approval Expected in April 2022
Alnylam is looking to expand its arsenal of therapies for Amyloidosis in 2022, via the expected US Food and Drug Administration (FDA) approval of Vutrisiran. Vutrisiran is the follow-up drug to Onpattro, Alnylam's first ATTR Amyloidosis drug. Though they are both efficacious in treating polyneuropathy amyloidosis, Vutrisiran offers a longer-lasting effect. This allows Vutrisiran to be delivered via a quarterly at-home injection, while its predecessor Onpattro requires a more cumbersome 80-minute IV infusion.7 If approved, annual sales of Vutrisiran are estimated to total $1.8 billion by 2026.8
Amyloidosis' extremely low diagnosis rate is a consideration when assessing Alnylam. Many patients do not realise they have the disease. As a result, to increase sales and awareness, the company historically invests heavily in marketing and patient education.10
Alnylam, notwithstanding the increasing competition in the industry, is poised for significant growth in Amyloidosis. The firm has best-in-class therapeutics that Global X believes will displace current standard of care in cardiomyopathy, if approved.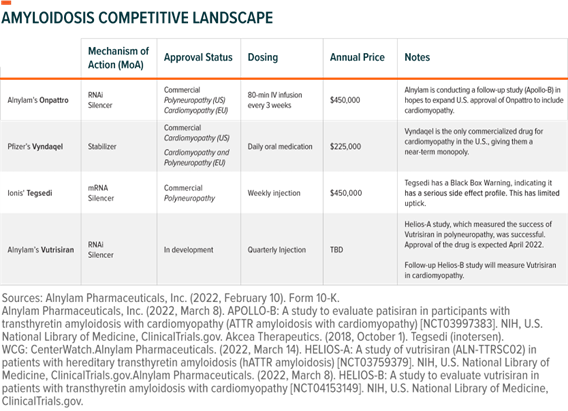 In the Pipeline: Proposed Growth Beyond Amyloidosis
Though Alnylam has seen significant success in the amyloidosis field, the firm is working to treat other disorders with significant burden to patients. Alnylam is developing genetic medicines for cardio-metabolic diseases like hypertension and non-alcoholic steatohepatitis (NASH). The NASH market is expected to reach almost $22 billion dollars by 2028 and has limited competition for disease-modifying treatments.12 Results for Alnylam's NASH phase one study are expected later this year.13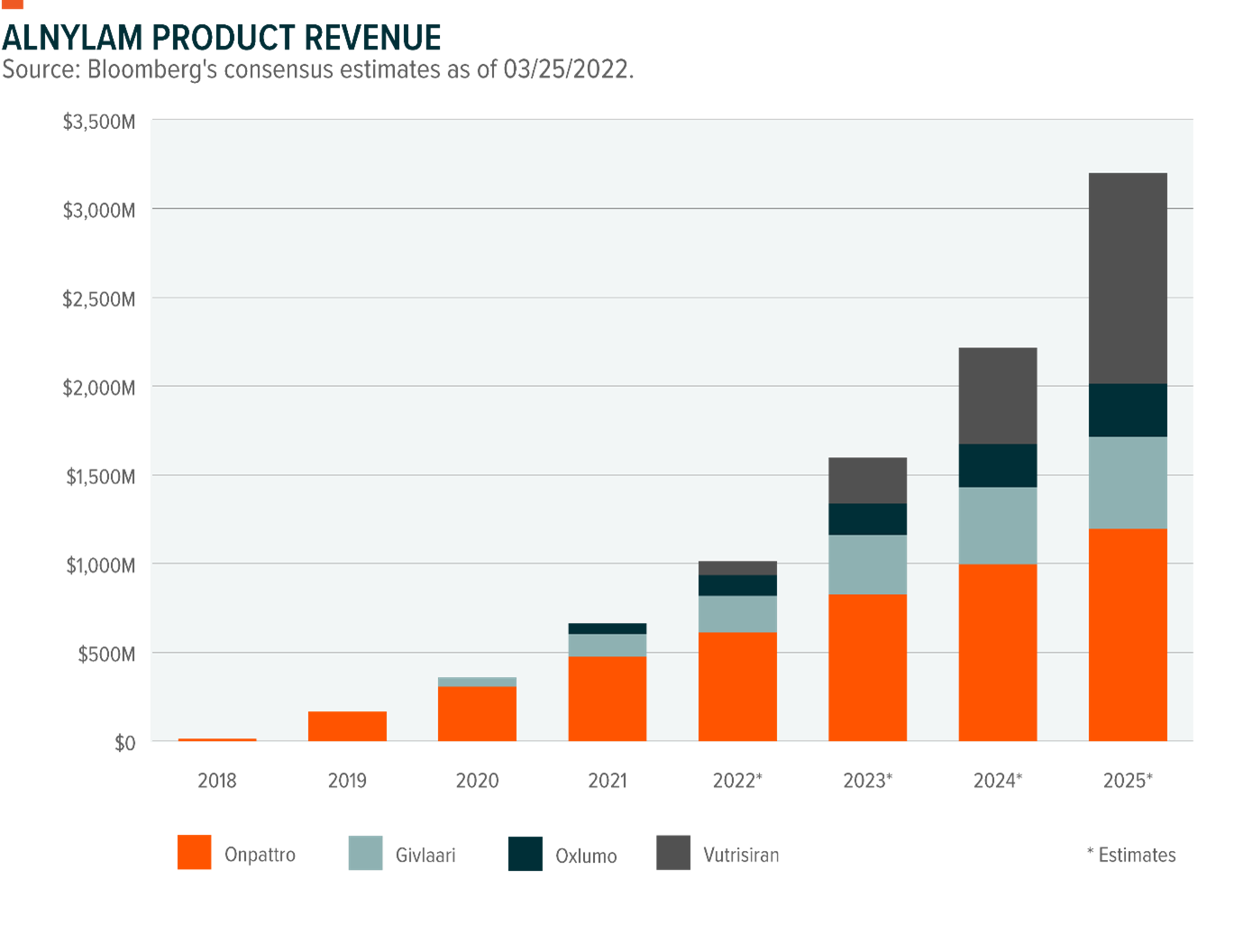 Sarepta Therapeutics: Expanding Its Duchenne Muscular Dystrophy Portfolio
Sarepta is a global biotechnology company that engineers precision genetic medicine for rare diseases. Sarepta's commercial portfolio focuses on Duchenne muscular dystrophy (DMD), a genetic disorder of progressive muscular weakness, typically in young boys.14
In Duchenne patients, a mutation in the DMD gene leads to a severe lack of dystrophin production. Dystrophin is a protein that works to ensure the integrity and structure of muscle fibres in skeletal and heart muscles. Without dystrophin, normal activity causes excessive damage to cells, and is replaced with fat and fibrotic tissue over time. Among symptoms, patients can experience frequent falls, trouble getting up, and running, as well as learning disabilities. On average, patients require a wheelchair by 10–12 years old and assisted ventilation by around 20 years old.15
Sarepta's DMD approach is to essentially skip a specific section of genetic code, allowing the creation of partially functional dystrophin.16 About 80% of DMD patients have a genetic mutation that is amenable to exon-skipping.17 Sarepta has three approved RNA-based exon-skipping drugs: Exondys 51, Vyondys 53, and Amondys 45. The number at the end of the drug's name represents the portion of the genetic code that has a mutation causing DMD and thus that the drug skips.18
Creating a Portfolio of Therapeutic Options for Duchenne Patients
Using the same technology, Sarepta is working on RNA-based exon-skipping drugs for exons 52, 43, 44, 50, and 55, listed in order of development. Sarepta's DMD drugs are based on its phosphorodiamidate morpholino oligomer, or PMO, chemistries, which essentially change how a cell reads a gene to correct a genetic disease. The next generation of PMO is PPMO, which adds a peptide to the compound. The peptide essentially charges the chemistry, giving it increased cell-penetrating capacity.19
Sarepta is currently recruiting patients for its Phase III MOMENTUM study, which uses exon-51 PPMO skipping technology to treat DMD. The study, which will test the drug's safety and efficacy relative to standard of care, is set to finalise recruitment in H1 2022. Results are expected shortly thereafter.20
Sarepta is also expanding its research beyond RNA-based therapies in DMD. They are researching both gene therapy and gene editing modalities to find and correct the DMD-causing mutation as well as allow the production of fully functional dystrophin. Sarepta's gene transfer therapy SRP-9001 is expected to be submitted for FDA approval as soon as 2023, following statistically significant data.21 If approved, Sarepta would offer the only gene therapy for DMD in the market.
Multiple Growth Avenues in Rare Diseases Beyond Duchenne
Sarepta is also working on gene editing therapies for other rare diseases such as limb-girdle muscular dystrophy, Charcot-Marie-Tooth (CMT) disorder, Rett syndrome, and Pompe disease.24 Rett syndrome, for example, is a neurological disorder, primarily in girls, where coordination and speech decline progressively in the first six months of life. Pompe disease occurs when glycogen, a complex sugar, accumulates in the body's cells, affecting how organs and tissues function, particularly muscles.25
This year, the company expects three-year data from a low dose cohort and two-year data from a high dose cohort for its treatment of limb-girdle muscular dystrophy type 2E. This type of muscular dystrophy involves progressive childhood weakening of the pelvic and shoulder muscles.26 The knee muscles are particularly affected. The company announced that its treatment shows sustained expression and functional improvements two years after administration.27
BioMarin Pharmaceuticals: Expanding Its Rare Disease Portfolio
BioMarin is a commercial stage biotech firm, with six FDA-approved therapies in the market. The firm's research largely focuses on enzyme therapies to treat rare diseases like phenylketonuria (PKU) and Morquio-A.28
PKU is a birth defect that affects how the body processes protein. When the amino acid phenylalanine builds up in the bloodstream. If left untreated, it can cause brain damage, developmental disabilities, behavioural issues, or seizures.29
Morquio syndrome is an inherited disease with symptoms that typically begin to show in one to three year-olds and progressively gets worse. Morquio syndrome prevents the body from producing enzymes needed to break down glycosaminoglycans, which are sugar chains that help build bone, cartilage, skin, and connective tissue.30In Type A, the necessary enzyme is missing altogether. The disease can cause spinal curvature, heart murmurs, enlargement of the liver, and loss of function below the neck, among other issues.31
BioMarin is also expanding its pipeline to include gene therapies to treat cardiomyopathy and hereditary angioedema (HAE), a disorder that causes recurrent swelling, most frequently in the limbs, face, intestinal tract, and airway.32
Treatment for Achondroplasia Dwarfism Pushes BioMarin Towards Profitability
The November 2021 approval of Voxzogo was a major milestone for BioMarin, as the drug is expected to help the company reach profitability forecasts in 2022. Voxzogo is designed to increase linear growth in people with achondroplasia dwarfism. The FDA approved the drug, administered by daily injection, for patients ages five and up, while the European Medicines Agency (EMA) approved the drug for patients two and up. BioMarin has a separate trial ongoing to see if its U.S. approval can be extended to younger patients. Growth plates in patients close at age 18, but the firm doesn't believe the narrower approval in the United States is limiting, as patients will age into the approved range.33
The firm has forecast sales of $90–115 million in Voxzogo in 2022, which is up from its original estimate of $80-110 million following positive patient response.34 A recent survey showed that about 30% of eligible patients are expected to start the therapy within a year.35 The market for achondroplasia dwarfism is significant, with the company estimating annual Voxzogo sales to peak at $1 billion, perhaps by 2025.36 BioMarin could face some public pushback from organisations like Little People of America (LPA). Though it takes no organisational position on the drug, LPA communicates the message that achondroplasia is not a disability that requires treatment. LPA emphasises that patients can live full lives with achondroplasia.37
Roctavian, Hemophilia A Drug, Provides a Short-Term Growth Opportunity
Beyond Voxzogo, the biggest short-term revenue opportunity for BioMarin is Roctavian, a gene therapy for the blood clotting disorder hemophilia A. The global hemophilia treatment market is expected to reach $16.4 billion by 2027.38 For its part, the consensus 2030 revenue estimate for Roctavian is almost $1.5 billion, even with expected competition from other hemophilia A programs.39
Existing factor replacement therapy treatments given by regular IV can help reduce or prevent bleeding in hemophilia patients. BioMarin's Roctavian would provide long-term expression of the missing or abnormal clotting factor, significantly reducing or potentially eliminating the need for factor replacement therapy.40 In 2020, the FDA rejected Roctavian's bid for approval and requested two-year follow-up data from a larger Phase III study. The company planned to resubmit the drug for FDA approval in Q2 2022 after new data showed the gene therapy restored blood clotting protein levels to a level consistent with mild hemophilia.41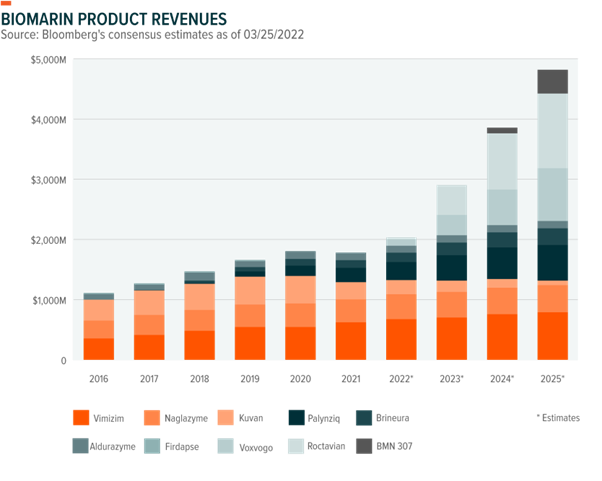 CRISPR Therapeutics: Leading the Gene Editing Space with CRISPR/Cas9
CRISPR is a pre-revenue, clinical stage biotech firm that focuses on gene editing via CRISPR/Cas9 technology. This approach allows scientists to edit parts of the genome by removing, adding, or altering sections of the DNA sequencing.42
CRISPR/Cas9 genetic editing has served as the basis for multiple biotech companies in their pursuit of finding cures for thousands of disorders.43 Recently, the U.S. Patent and Trademark Office upheld the fact that the Broad Institute of MIT and Harvard was the first to apply the CRISPR/Cas9 approach in human cells.44 As such, any pharmaceutical company wanting to apply this technology in clinical trials must license it from the Broad Institute. If this decision is not overturned, CRISPR Therapeutics, who had licensed the technology from the appealing group, would have to negotiate a new licensing agreement.45
Though this could provide a short-term hurdle, Global X  believes CRISPR Therapeutics is in a unique position against biotech companies with similar therapeutic approaches. With a robust pipeline of drugs, each with the potential to surpass $1 billion in revenue, the firm has significant runway for adoption of CRISPR technology.46 CRISPR Therapeutics, for example, is the closest to expected FDA filing of its therapy for hemoglobinopathies. This particular asset has the potential to be the first FDA-approved CRISPR therapy in the market.47
CRISPR Therapy for Hemoglobinopathies: Potential to Be CRISPR Therapeutic's First Commercial Drug
A significant portion of CRISPR's clinical development focuses on blood disorders, or hemoglobinopathies, like sickle cell disease and β-Thalassemia. These inherited disorders distort the production or structure of hemoglobin.48 Diseases like these often require frequent transfusions and hospitalisations.49
In collaboration with Vertex Pharmaceuticals, CRISPR developed CTX001, a therapy which involves editing the patient's stem cells to produce high levels of hemoglobin. The one-time drug is currently in clinical development to validate whether it alleviates or eliminates transfusion requirements in the roughly 32,000 patients in the United States and Europe.50
According to an Endpoints News article from June 2021, the data released by CRISPR and Vertex for CTX001 is strong thus far.51 The firms are working on their phase 2/3 Climb-121 trial, which looks to evaluate the therapy's safety and efficacy. They expect to submit the drug for FDA review later this year.52 Their closest competitor in the space is Bluebird Bio, though adverse events (AEs) in Bluebird's Lentiglobin (Zynteglo) data delayed their potential FDA filing until Q1 2023 at the earliest.53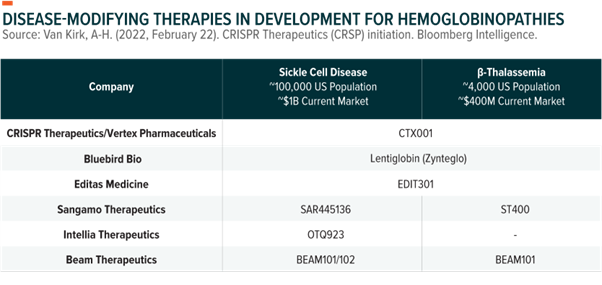 In the Pipeline: Finding New Ways to Kill Cancer Cells & the Promise of In-Vivo CRISPR
CRISPR Therapeutics is also evaluating in-vivo therapies. The firm's later stage assets are all ex-vivo CRISPR therapies, meaning the genetic material is isolated and edited outside of the body and then transplanted back into the patient.54 The firm, however, is starting to research in vivo gene editing therapies, where the genetic material is injected directly into the body.55 The in-vivo space, while still quite nascent, offers a simpler and more affordable supply chain compared to ex-vivo therapies. Its development could increase patient access to numerous life-changing therapies.56 The firm is evaluating this approach for genetic disorders like Duchenne muscular dystrophy (DMD) and cystic fibrosis (CF).57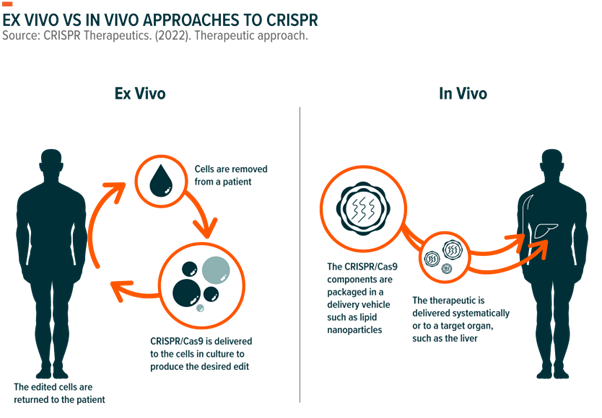 CRISPR technology also shows promise in oncology, where current treatments are highly toxic. CRISPR Therapeutics is currently working on three separate cell therapies that target different mutations for the treatment of both solid tumours and hematologic malignancies.58 CRISPR Therapeutics is evaluating allogeneic CRISPR-enhanced CAR-T therapy, which the firm hopes will overcome many of the current efficacy, toxicity, and manufacturing challenges of commercialised cancer therapies. An allogeneic, or off-the-shelf, manufacturing approach means the therapies can be manufactured in large batches from donor-derived tissues instead of in single lots using the patient's own tissues.59 CAR-T is a method of getting immune cells, called T cells, to fight cancer by modifying them in a lab.60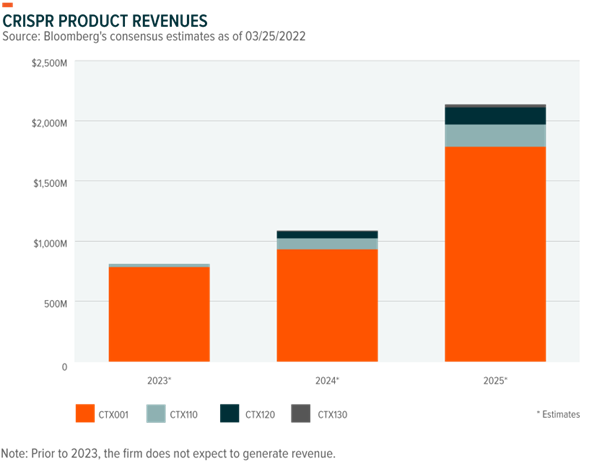 Conclusion
Global X believes 2022 will see a myriad of exciting developments in the genomics space, particularly with such anticipated data readouts throughout the year. We expect Alnylam, BioMarin, Sarepta, and CRISPR Therapeutics to each see significant growth. The broader healthcare industry has seen slower than expected M&A traction in the first few months of 2022 so far, but large pharma firms have not been coy about their intent to acquire.61 As a result, we see these firms as likely acquisition targets as large pharmaceutical firms look to bolster their portfolios.
Related Funds
CURE:
For those wishing to gain access to the advancement of genomic and health sciences, the Global X S&P Biotech ETF (CURE) provides a solution. CURE seeks to invest in companies that potentially stand to benefit from further advances in fields such as gene editing, genomic sequencing, genetic medicine/therapy, computational genomics, and biotechnology.
Click the fund name above to view the fund's current holdings. Holdings are subject to change. Current and future holdings are subject to risk.