New in Digital Assets: May 2023
Following four months of upwards price movement, crypto markets retraced moderately in May. The pullback was triggered by US macroeconomic developments, as in-line Consumer Price Index (CPI) and Producer Price Index (PPI) prints, coupled with robust labour data, shifted monetary policy expectations towards a more hawkish stance. This change in sentiment resulted in an intra-month decline of -13.5% for bitcoin (BTC). Market sentiment improved as news emerged about a potential agreement to raise the US debt ceiling without any provisions that could hinder the crypto industry. BTC closed the month down -6.9% with ether (ETH) outperforming BTC, closing the month up 0.2%. The total crypto market capitalisation fell -5.2% to close at $1.10T.
In this article, we focus on the notable surge in the Bitcoin network's activity driven by the Ordinals protocol. We also delve into the global expansion efforts of various crypto-related companies, the advancements in enterprise blockchain projects, the increasing popularity of tokenised assets, and the remarkable growth and adoption of Ethereum.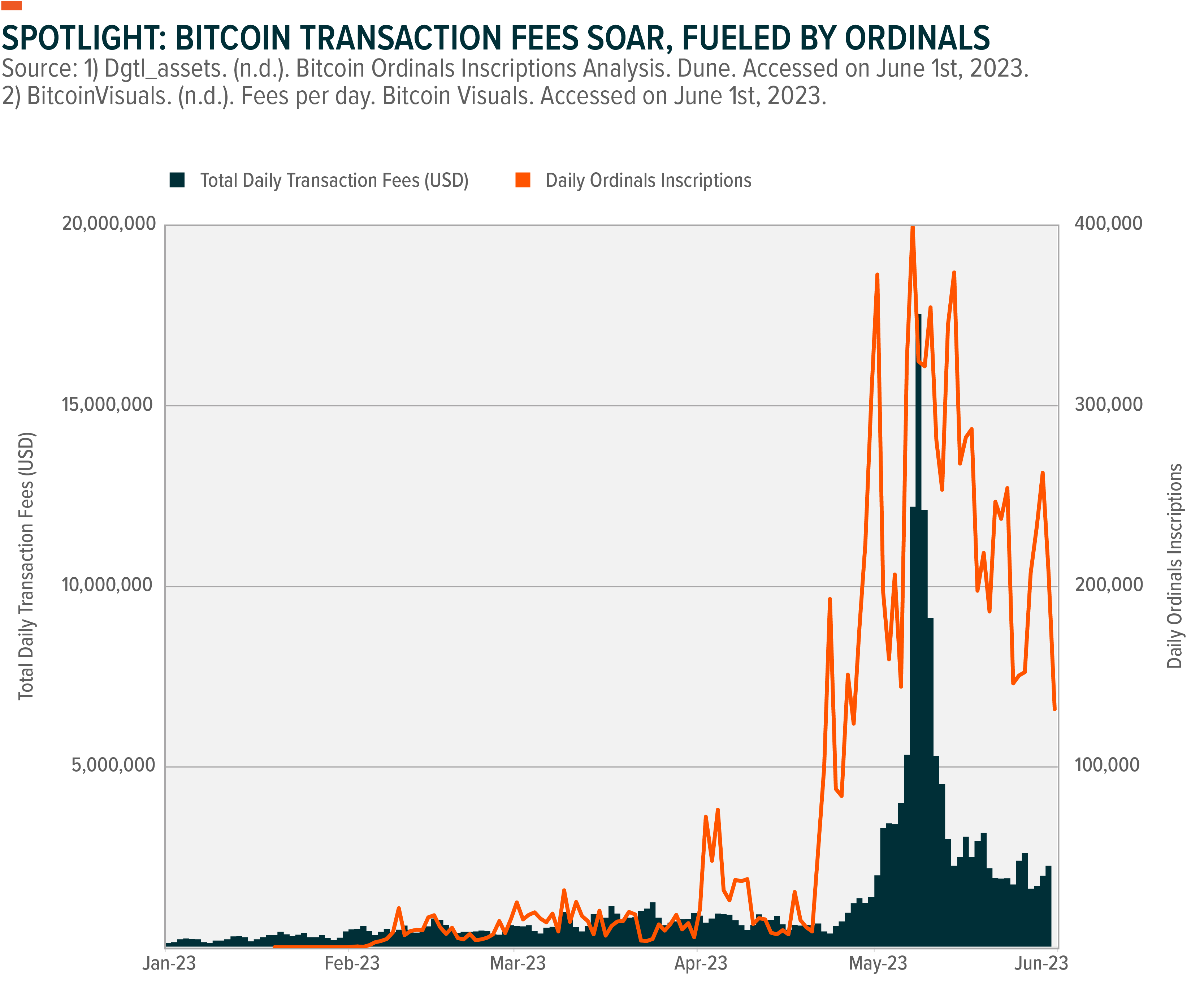 Transaction fees in the Bitcoin network soared to a two-year high due to Ordinals, a protocol enabled by Bitcoin's Taproot upgrade on November 14th, 2021.6  The Ordinals protocol introduces a unique system that enables users to individualise satoshis, the smallest unit of bitcoin (BTC), or 1/100,000,000 BTC, by attaching additional data to them. This process, referred to as inscription, enhances the uniqueness and customisation of individual satoshis.7
Ordinals open the Bitcoin network for use cases beyond BTC transfers. So far, the primary uses of Ordinals inscriptions are BTC-based non-fungible tokens (NFTs) and BRC-20 tokens, which are semi-fungible tokens. Significant interest in BRC-20 tokens in the first half of May caused Ordinals inscriptions to surge. As a result, Bitcoin block space demand surged, pushing transaction fees to levels not seen since 2017.8
While some Bitcoin enthusiasts criticise Ordinals, others hail it as potentially revolutionary for the Bitcoin network. The reason for the optimism is that Ordinals marks the first signs of a future where network activity secures the Bitcoin network through transaction fees rather than newly issued BTC. On May 8th, 2023, transaction fees represented 42% of the current block reward, compared to the usual 2–5%.9 It is unclear whether this activity will be sustained, but Ordinals could be a paradigm shift for the Bitcoin network's security.
News & Headlines
---
Equities
Coinbase Expands Globally As the SEC Denies Its Petition for Regulatory Clarity
Coinbase submitted a petition to the SEC requesting regulatory clarity for the crypto industry. In response, the SEC said there is no timeline for acting on Coinbase's petition and that current guidelines are sufficient. Coinbase Chief Legal Officer, Paul Grewal, said that the SEC's response reinforces the company's concern that there is no clarity on what the SEC may consider to be within or outside its jurisdiction.10 Lack of regulatory clarity remains one of the crypto industry's greatest concerns in the US.
Coinbase, like many other crypto businesses, wants to increase its international footprint in regions with more favourable regulatory environments. The company obtained a regulatory license from the Bermuda Monetary Authority (BMA) to launch Coinbase International Exchange. For now, the exchange will allow institutional users to trade BTC and ETH perpetual futures. US citizens will not be permitted to use the exchange.
Coinbase's zero-fee subscription service, Coinbase One, completed beta testing and expanded its market from the US to the United Kingdom, Germany, and Ireland. The service, priced at $29.99 per month, waives trading fees, offers higher staking rewards, and other reporting and analytics advantages. The company aims to expand Coinbase One to 35 countries.
Marathon Forges Middle East Bitcoin Mining Venture
Marathon Digital, a US Bitcoin miner, partnered with Zero Two, an Abu Dhabi infrastructure development firm, to launch the Middle East's first large-scale, immersion-cooled Bitcoin mining operation. The project plans include two mining sites with a total capacity of 250 megawatts, powered by Abu Dhabi's excess energy. The venture will have Zero Two holding an 80% ownership stake, while Marathon will have a 20% ownership stake. The combined initial capital contribution for the venture amounts to approximately $406 million.11
Block Completes 5nm Bitcoin Mining Chip Prototype, Aims for Open-Source Rig
Block has successfully finalised the prototype design of its latest Bitcoin mining chip, utilising advanced 5-nanometer (5nm) technology. The company asserts that this chip will play a pivotal role in decentralising the supply of mining rigs by embracing an open-source approach to Bitcoin mining technology. Notably, this marks the first instance of a company releasing its ASIC chip designs, which are specialised devices employed for Bitcoin mining, as open-source.
The development of Bitcoin mining ASIC rigs is a significant technical and financial challenge, which has led to the concentration of custom mining silicon in the hands of a select few companies. Open-sourcing the technology behind ASICs could increase competition in the hardware industry and make mining more accessible.
PayPal Crypto Holdings Surge by 56% to Nearly $1 Billion
PayPal disclosed $943 million worth of customer cryptocurrencies in its Q1 2023 filing, a 56% increase from Q4 2022. The amount represents 77.9% of PayPal's total liabilities, an increase of over 10% from Q4 2022. PayPal's holdings consist of $499 million in BTC, up from $291 million in December 2022; $362 million in ETH, up from $250 million; and $82 million of Bitcoin Cash and Litecoin, up from $63 million. PayPal safeguards its holdings with third-party companies.12
Adoption
Microsoft, Goldman Sachs, and Others to Launch Blockchain Network, Canton
The Canton Network, developed through a collaborative effort involving Microsoft, Goldman Sachs, BNP Paribas, Deloitte, Paxos, and other industry leaders, is a ground-breaking initiative facilitated by Digital Asset, a prominent blockchain technology firm. Built on Digital Asset's smart contract language, Daml,
Canton establishes an interoperable system where assets, data, and cash can seamlessly synchronise across interconnected applications. By enabling the synchronisation of institutional assets, previously fragmented financial markets can now integrate and operate cohesively. Scheduled to commence testing in July 2023, Canton boasts robust privacy controls and a scalable infrastructure tailored to meet the demands of major financial institutions.
Visa Tests Ethereum Account Abstraction Capabilities
Visa conducted experiments with account abstraction on Ethereum's Goerli testnet. The aim is to simplify user interaction with the Ethereum network by managing transaction costs, potentially eliminating the need for users to hold ETH for gas fees. The move builds on Visa's existing relationship with Ethereum, which began in 2021 when Visa started accepting USDC stablecoin to settle payments. Account abstraction could be a significant step for the company's blockchain strategy and bring it closer to launching a blockchain-based payment solution.
Axie Infinity: Origins Launches on Apple's App Store
Vietnamese video game developer, Sky Mavis, which developed the popular play-to-earn crypto game, Axie Infinity, launched Axie Infinity: Origins on the Apple App Store. The game is in a limited rollout phase and is only available in select Latin American and Southeast Asian countries. The limited rollout will help the company gather data on user retention rates before a global launch.
Sky Mavis worked with Apple for about a year to gain approval for the App Store. While Apple's current App Store policies have posed challenges to blockchain-enabled applications, Axie's co-founder is hopeful that these policies will evolve to favour Web3 companies.
Zimbabwe Successfully Sells $39 Million of Gold-Backed Digital Tokens
The Reserve Bank of Zimbabwe (RBZ) sold about $39 million of gold-backed digital tokens in a bid to stabilise the nation's struggling economy, which has suffered from severe currency volatility and inflation. The central bank received 135 applications for tokens equating to 14.07 billion Zimbabwean dollars, backed by 139.57 kilograms of gold. The sale follows a warning from the International Monetary Fund (IMF), which argues that the RBZ should liberalise its foreign exchange market.13
Demand for Tokenised Treasuries Soars As Investors Seek Yield Perceived As Safe
Higher bond yields and recent bank failures have triggered increased demand for tokenised US Treasury bonds. This year, the tokenised money fund market cap has quadrupled to nearly $500 million.14
Franklin Templeton's Franklin OnChain US Government Money Fund is at the forefront, offering a token (BENJI) that represents one share of the fund on the Stellar blockchain. The fund's assets have grown to $276 million, nearly tripling its deposits since early January.
Since their launch in January 2023, Ondo Finance's OUSG and Matrixdock's STBT, which are backed by short-term government bonds, have experienced significant inflows of $132 million and $72 million, respectively. This growing trend of tokenising traditional assets, such as government bonds, is playing a crucial role in driving the adoption of digital assets.15
Regulation
Beijing Publishes Web3 Innovation and Development White Paper
Beijing has recently published a white paper that highlights its endorsement of Web3 innovation and development, emphasising the technology's significance as an inevitable future trend in the internet industry. The city envisions itself as a prominent global hub for digital economy innovation, with a specific focus on the Chaoyang district, which has committed to annual investments of around $14 million until 2025.16 This initiative aligns with the introduction of a new licensing regime for cryptocurrency platforms in Hong Kong, set to commence on June 1. It comes at a time when regulatory scrutiny in the US has intensified.
Jane Street, Jump Crypto, Bittrex US, and Binance Canada Exit Operations
Two prominent crypto market-making firms, Jane Street and Jump Crypto, have suspended their digital asset operations in the US due to increased regulatory scrutiny. Jane Street cited regulatory uncertainty as a challenge to meet its internal standards, leading to a scaling back of its crypto ambitions globally. Jump Crypto, on the other hand, is expanding internationally while pulling back from the US market for similar reasons.
In a separate development, Bittrex Inc., the US subsidiary of crypto exchange Bittrex, has filed for Chapter 11 bankruptcy protection. However, this filing does not impact the exchange's other platform, Bittrex Global. The company reassured customers that their funds are secure, and its top priority is to ensure customers' full satisfaction. Bittrex CEO Richie Lai explained that the current US regulatory environment creates an economically unviable landscape that favours larger players.
Furthermore, Binance has announced its withdrawal from the Canadian market, citing new regulations that have rendered it unfeasible. As a result, the crypto industry is increasingly gravitating towards Europe and the United Arab Emirates, which offer more favourable regulatory landscapes for expanding operations.
Crypto & Web3
Ethereum's Fundamentals Shine: Record-Breaking Staked ETH and Deflationary Trends
Several on-chain Ethereum network metrics suggest that its fundamentals have never looked more promising. In less than a month following the Shanghai Upgrade, which enabled ETH staking withdrawals, the total amount of staked ETH reached an all-time high. As of May 31st, 2023, the Ethereum network is supported by approximately 19 million ETH, which translates to a value of approximately $35.6 billion. This substantial amount underscores the high level of confidence and optimism demonstrated by network participants toward the future of Ethereum.17
The surge in staking activity and growing confidence in Ethereum can be attributed to two key factors. Firstly, the implementation of the Shanghai Upgrade has significantly reduced the risks associated with staking. Secondly, staking rewards experienced an uptick in May. The rise in transaction fees, driven by the increased popularity of meme-coins, led to heightened demand for block space. This resulted in higher fees paid to stakers, greater MEV (Maximal Extractable Value) rewards, and more ETH burned. A net -139,420 ETH has been removed from circulation during May, equating to an annualised yearly ETH supply change of -1.4%.18
Related Funds
EBTC: For those wishing to gain direct exposure to Bitcoin, the Global X 21Shares Bitcoin ETF (EBTC) offers a solution. Invest in the only physically backed Bitcoin ETF in Australia.
EETH: For those wishing to gain direct exposure to Ethereum, the Global X 21Shares Ethereum ETF (EETH) offers a solution. Invest in the only physically backed Ethereum ETF in Australia.