Six Quick Updates on Global Nuclear Power Growth
Nuclear power is a key technology in the global transition from fossil-fuels in order to reach net-zero carbon emissions by 2050. The Global X Uranium ETF (ASX: ATOM) aims to provide investors access to this growing opportunity as nuclear energy adoption increases across established and emerging markets. Below are some recent updates on nuclear power and uranium from around the world.
Key News of the Quarter
US is undertaking multiple steps to invest in nuclear energy domestically and globally: Biden-Harris Administration announced US$150 million to Improve Nuclear Research and Development Infrastructure at Idaho National Laboratory.1 The US Department of Energy bought 300,000 pounds of U3O8, starting their earlier solicitation to buy 1 million pounds with up to US$75 million in contracts for the strategic uranium resource.2 Moreover, the US will assist Thailand to produce nuclear power3, will begin negotiations with Philippines to build nuclear power stations with American technology4 and with Turkey to sell to the country small module reactors (SMRs).5 Other plans include starting a two-year Ukraine Clean Fuels from SMRs Pilot demonstration project and initiating Project Phoenix to switch Europe from coal-fired reactors to SMRs.6
The United Kingdom is completing plans to back the construction of nuclear reactors. As part of a plan to phase out gas power plants and decarbonise the electricity supply, UK policymakers are completing plans to finance new small nuclear reactors.7 In December, they committed £77 million to aiding in the development of nuclear reactors and nuclear fuel manufacturing.8 The Sizewell C's ambitious nuclear proposal advanced with official backing.9
Sweden intends to increase its power plant capacity to improve energy security. Sweden's new centre-right administration wants to build additional nuclear power facilities to increase energy security and reduce carbon emissions. Prime Minister Ulf Kristersson said a new law will abolish restrictions that limit Swedish nuclear reactors to ten in three locations of the country. After the 2011 Fukushima nuclear accident in Japan, right-wing and left-wing governments closed half of Sweden's reactors, leaving six.10
France to streamline nuclear reactors construction. As President Macron pushes for at least six new facilities to decrease carbon emissions, the French nuclear industry, currently struggling to maintain its fleet of older reactors, needs to hire 15,000 workers annually.11 Macron wants to streamline rules to develop new nuclear reactors faster as maintenance concerns plague France's older atomic facilities and the energy crisis accelerates the shift away from fossil fuels.12
Korea intends to build reactors in Turkey and Poland. The government-owned Korea Electric Power is in talks with Turkey about constructing four nuclear plants13, and its subsidiary Korea Hydro & Nuclear Power has a letter of intent from Polish utilities PGE SA and ZE PAK SA to construct Poland's second nuclear power plant.14
India's best hope for meeting its climate goals is nuclear energy. India's largest power producer, NTPC Ltd., plans to build a big nuclear fleet to help the country transition away from coal and reach net-zero emissions by 2070.The state-run business expects to construct 20 to 30 gigawatts of nuclear power by 2040. Nowadays, India has 22 operational reactors with around 6.8 gigawatts of capacity.15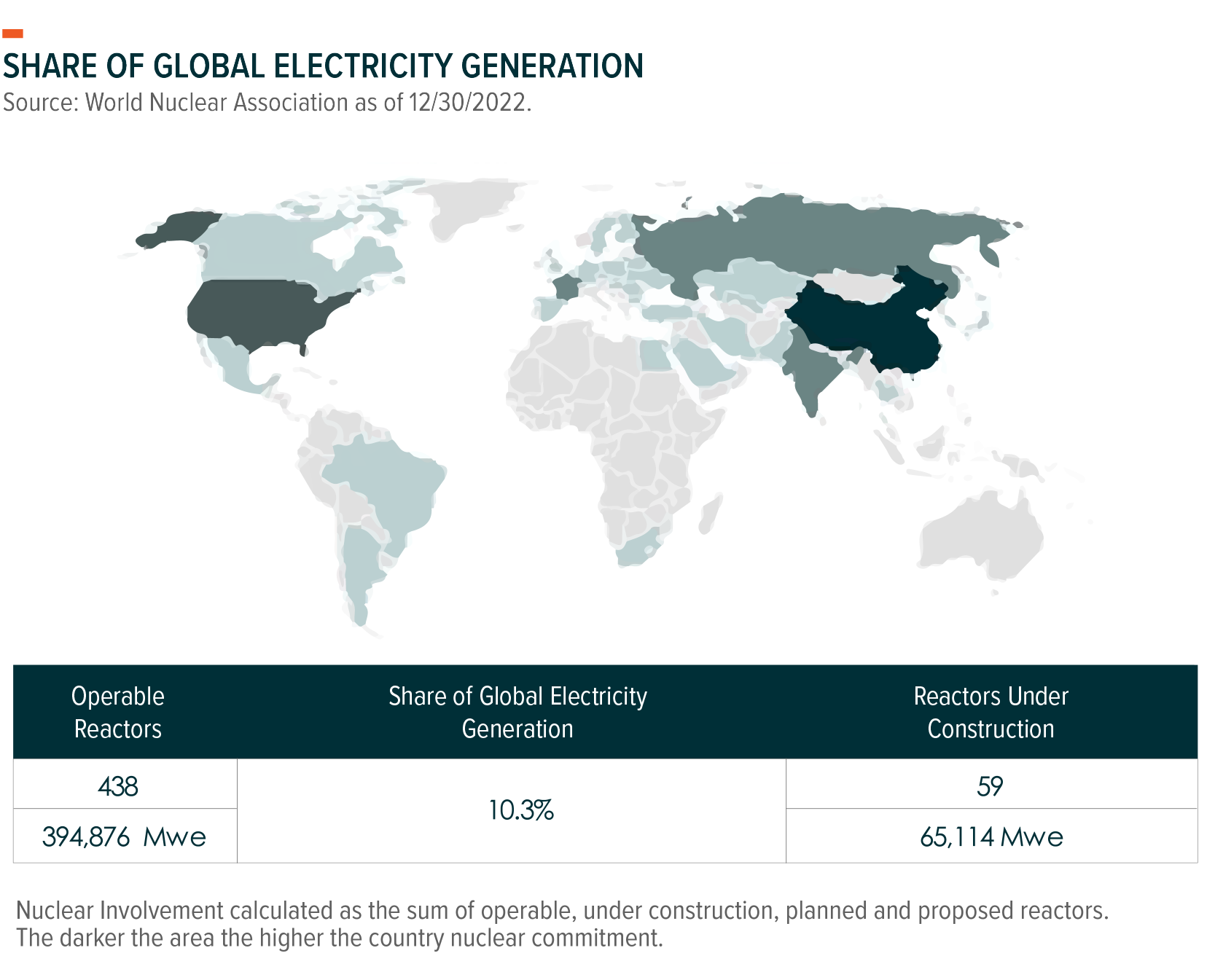 Related Funds
ATOM: For those wishing to invest in uranium and the nuclear power value chain, Global X Uranium ETF (ATOM) provides a way to do so.
ATOM tracks the Solactive Global Uranium & Nuclear Components Total Return Index. The Solactive Global Uranium & Nuclear Components Total Return Index tracks the price movements in shares of companies which are (or are expected to be in the near future) active in the uranium industry. This particularly includes uranium mining, exploration, uranium investments and technologies related to the uranium industry. The Index will include a minimum of 20 components at every rebalancing. ATOM does not have any holdings in EDF Energy, Korea Electric Power, Kore Hydro & Nuclear Power, PGE SA, ZE PAK SA and NTPC Ltd.
Click the fund name above to view the fund's current holdings. Holdings are subject to change. Current and future holdings are subject to risk.