Australian Companies Join the World's Largest Uranium Fund
The world's energy needs are growing rapidly, subsequently energy security and supply concerns are coming into play – particularly as net-zero by 2050 targets loom. Uranium and nuclear power have emerged as a leading fossil-fuel alternative to facilitate the transition to clean energy and are well positioned for growth over the next decade.
In light of the current environment, the Global X Uranium ETF (ASX: ATOM), which seeks to offer investors access to a broad range of companies involved in the uranium value chain, has undergone an index methodology update to enhance its integrity and exposure to the uranium investment opportunity. There are still risks to be considered before investing in uranium or nuclear power, however these changes aim to address a number of key investor concerns. Three key changes have been made to the Solactive Global Uranium & Nuclear Components Total Return Index:
Enhanced pure-play exposure. The index has been altered to also include uranium reactor and associated technology constituents, allowing for a more broad-based uranium investment opportunity.
Addition of a controversial weapons screen. The index has removed companies that may be involved in the production of nuclear weapons or other controversial applications of nuclear technology.
Improved transparency. A verification process has been implemented to publicly disclosed information on all constituents of the index to ensure revenue source transparency.
Following these changes, five companies will be exiting the index, and six new firms will be added.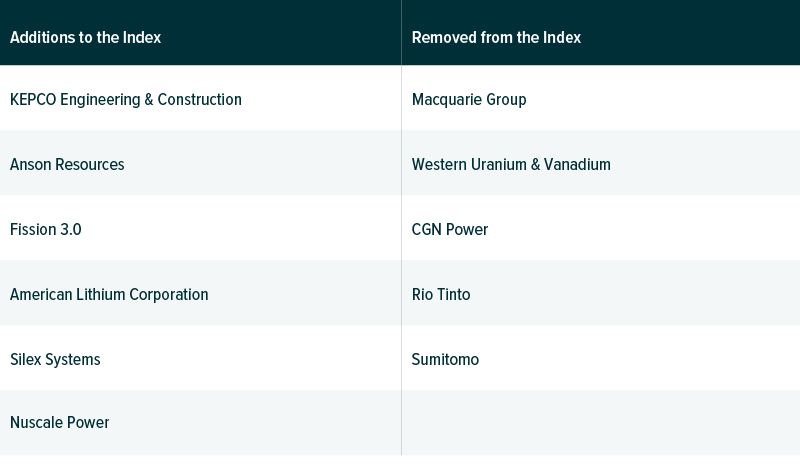 To understand some of the constituents in the new and improved index, the below stock stories explore two new industry leading Australian firms that are joining ATOM.
Anson Resources:
Market Cap: $329.91M
Index Weight: 0.37%
Anson Resources Limited is an Australian exploration and development firm, focused on the acquisition and development of uranium, other metals, and their related technologies. The up-and-coming player in the global energy resources industry has operations in Australia and the US. Anson Resources acts as a non-pure play addition to the index, with strong exposures to both lithium and vanadium projects. Its uranium project, "Yellow Cat" based in Utah, US, is a historically high-grade prospect site, which promises high concentrations of uranium and vanadium. This, alongside their flagship lithium project "Paradox", makes Anson Resources well positioned to ride the momentum behind global decarbonisation efforts.
Silex Systems:
Market Cap: $969.07M
Index Weight: 1.33%
Silex Systems Limited is an Australian-based technology company that has risen to stardom off the recent surge in interest in nuclear energy. The company specialises in the development and commercialisation of advanced laser technologies that aim to increase efficiency and reduce the cost of uranium enrichment. Working alongside nuclear industry titans such as Cameco and Global Laser Enrichment (GLE), Silex is currently creating what they describe as the "only third-generation" laser-based enrichment tech on the market.1 The proprietary technology is only forecast to be completed by mid-2020s, but upon successful completion, will be implemented in the Paducah Laser Enrichment Facility (PLEF) proposed by the US Department of Energy. The PLEF will be one of only two new proposed enrichment facilities responsible for fuel fabrication in the US, making a total of three active enrichment plants upon completion.2
The Case for Uranium and Nuclear Energy Grows Stronger
In recent years, the world's constantly increasing energy demands, alongside its commitment to lowering carbon emissions, has led to increased attention on nuclear energy as a clean and reliable alternative. However, while demand has grown, large-scale global events have shown weaknesses and threatened disruption in the nuclear supply chain. In particular, Russia's invasion of Ukraine, which has pushed the globe to cut ties with Russian oil and gas, has also led to an array of difficulties in the nuclear industry, due also to Russia's dominance in nuclear fuel.
Russia currently mines approximately 6% of the global raw uranium output, a number which can and will eventually need to be replaced through an increase of output from other nations.3 However, uranium must also be converted and enriched to have any use, and currently 40% of uranium conversion plants, as well as nearly 50% of uranium enrichment facilities, are all Russian owned.4
While this may impact the efforts of the US and allied countries to wean off Russian uranium, it alludes to an equally bright future for growth in the nuclear energy industry globally. As nations seek to build independence from international sources, investments must be made and infrastructure must be built. The United States, for example, is now expanding their own uranium stockpiles and uranium enrichment capabilities, as just last year, the US National Nuclear Security Administration (NNSA) issued a purchase of up to one million pounds of U3O8 (the primary material for synthesising nuclear reactor fuel), citing challenges of producing uranium domestically.5 Globally, the World Nuclear Association also predicts that miners and suppliers will have to at least double in capacity to meet even the lower end of demand forecasts for 2040.6
Conclusion
With growing tailwinds pushing the uranium industry forward, ATOM's index changes aim to provide investors with a more robust representation of the uranium sector, allowing for a more transparent and well-rounded investment opportunity.
To find out more about ATOM, click here.
Holdings are subject to change. Current and future holdings are subject to risk.